James Wiley Young
1850 US FED CENSUS -- Union Twp, Johnson, Indiana; p.45, Dwlg. 195, Fmly. 196, dtd 20 Aug 1850
Listed as ** James William Young** age 32 -sex M -married -color W -Occ: farmer 700 -b. Ohio
NOTE: William is in error. Possibly his wife assumed Wiley was short for William.
This is the only instance James W. Young is listed as a William.
1865 KS STATE CENSUS -- Waveland, Burlingame Twp, Osage Co, KS, dtd 1 May 1865, Fmly 111
70 acres - 35 acres unimproved - 3 acres fenced - cash values of farm $1200
Farm implements $100 - 3 horses - 35 milch cows

Young
James

47

M

Farmer

1200

1300

OH

married

Mary

39

F

KY

married

Wm.

20

M

Reg Co.15 RCH

IN

single

John

18

M

Reg Co.15 RCH

IN

single

James

16

M

IN

single

George

14

M

IN

single

Jane

12

F

IN

single

Ellen

8

F

MO

single

Clara

5

F

KS

single

Harriet

3

F

KS

single

Sherman

10/12m

M

KS

single
1880 US FED CENSUS -- Williamsport, Shawnee Co, KS; p.2, Dwlg. 7, Fmly. 8, dtd 12 Jun 1880
**Listed as James Young** age 52 -sex M -color W -Occ: farmer 8,073 565 -b. OH
Book - "Pioneers on the Bluestem Prairie", c. 1976, p. 582, #1297
"Sherman P. Young" short history of family and their migration.
Copy in personal possession.
Migration: b. Ohio; at an early age he came to Johnson Co, Indiana - childhood & marriage, Union Twp, Johnson Co, IN; possibly left Shiloh, Johnson Co, IN by summer of 1852 - does not show Martha Jane as being baptized at the Shiloh Presbyterian Ch; lived in Cass Co. Missouri in Oct 1956. Moved to Burlingame Twp, Osage Co, KS by spring of 1857. Moved to Shawnee Co, KS 1870. Living in Eskridge, Wilmington Twp, Wabaunsee Co, KS, when he died. I do not know when he moved there.
Eskridge, Kansas newspaper article, no date:
"The James W. Young family from Shilo [Shiloh], Indiana were among the early settlers in Eskridge. Mr. Young bought the property and built the house where his great granddaughter, Mrs. Francelia (Young) Robinson now lives. [Francelia has now passed on]. The property has been in the Young family ever since, except for the 20 years that the late George Cook owned it. James had a family of 12 children..."
Reference: "The Factual History of Kansas" by Sherman P. Young © 1954
"My father was an active member of the State Guard... He was a doorman at the Kansas State House of Representatives at Topeka when he was in his 70's." Enabled him to have a pension. Pensioners Residing in KS -- Index 1883 -- Young, James W. -- Jackson Co. -- 640
Buried: Shawnee Centre Cemetery, -Old Wakarusa Village, Shawnee Co, KS
Obituary - Eskridge Star, 28 May 1908
"James Wiley Young - Dead. James Wiley Young was born in Brown County, Ohio, April 28, 1918, and died in Eskridge, May 27, 1908, aged 90 years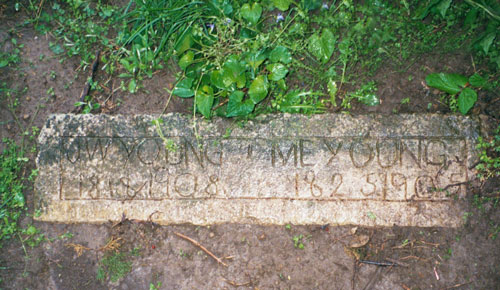 and 29 days. At an early age he came to Johnson County, Indiana. On June 3, 1841, he was married to Mary Hamilton. There were born to them five sons and six daughters of whom the five sons and four daughters remain to feel the loss of their parent's love and sympathy, for Mother Young was laid to rest three years ago, the third of this month. For many years, Mr. and Mrs. Young were useful members of the Presbyterian Church at Franklin, Indiana. Mr. Young with his wife and seven children came to Kansas while it was yet a territory. He was bitterly opposed to slavery and bravely did his part in bring Kansas into the Union as an anti-slavery state. On account of Father Young's age, he was exempt from the army life and battles, but he furnished two sons who brought back a good report of faithful service, at the close of the war.
Mr. Young belonged to the State Militia and as a member of that organization, often sacrificed his time and means that the Union of all the states might be preserved. Of the children now living Lizzie, William George and Clara have homes in Oklahoma. John, James, Jennie, Ellen and Sherman live in Kansas. Twenty-three grandchildren and ten great-grandchildren still survive."
Mary Ellen (Hamilton) Young
Obituary - probably the Eskridge Star, dtd abt 25 Nov 1825
"Mary Ellen Hamilton was born in Kentucky, Nov. 22, 1825. When she was nine years old her family moved west to Johnson County, Indiana, where Mary received such education as that day afforded. In early maidenhood she met James Wiley Young to whom she was married June 3, 1841. The first fourteen years of their married life was spent in Johnson Co., Indiana. In 1855 they removed to Cass Co., Missouri, in 1857 to Topeka and in 1860 preempted and homesteaded land near the south boundary line of Shawnee Co., where the happy family lived for twenty-five years. In 1885 Mr. and Mrs. Young located in Eskridge and in 1902 made for themselves a home in Topeka from which Mrs. Young was called to the better home, May 2nd 1905.
"This faithful wife and mother knew much of the hardships of pioneer life, but through all her beautiful Christian spirit was an inspiration to the members of her household. She was the mother of eleven children, Elizabeth, William, John, James, George, Jennie, Susan, Mary [Sara] Ellen, Clara, Hattie and Sherman, all of whom survive their mother except Susan who died in the Indiana home and Hattie Bell who lies near her mother.
"Mr. and Mrs. Young have through all the varied years they have spent together been faithful, earnest workers in the Presbyterian Church, teaching their children by precept and example the value of Christian living.
"Mr. Young, now feeble with the weight of 87 years awaits the summons that shall call him to join and enjoy with her the eternal reward promised to the good and faithful servant."
William Allison Young
Ref: "The Factual History of Kansas" by Sherman P. Young ©1954
"Two of my brothers, John and Will, were pressed into service [Civil War]. They were stationed out West to prevent the Indians from molesting the settlers by stealing their horses, cattle and chickens and frightening the women and children while the men were away at battle."
Obituary - The Eskridge Independent, dtd Thurs. 19 Dec 1935
"Sherman Young's Brother Dies. Sherman Young's brother, W. A. Young, died recently at Elk City, Okla., at the age of 92, thus removing one of the most colorful figures in the Southwest, according to the Elk City Tribune-Star, a copy of which was sent to Sherman Young.
W. A. Young, by the way, once lived for a term of years on Rock Creek, on what is now known as the John Clark farm. He was there 1888 to about 1892, Sherman Young believes. He accompanied his parents to Missouri when he was only seven years old and later moved to Kansas. At the outbreak of the Civil War he joined the Union army and was advanced to the rank of sergeant. He remained in the west throughout the war period and guarded the mail coaches through Colorado and New Mexico, also escorted wagon trains to California. He also served as a member of the cavalry guard at Fort Sumner, New Mex., being placed there to hold in check 9,000 hostile Indians.
The story of his life reads like one of Horatio AlgerÕs stories, the poor boy who rises to riches. At the time of his marriage Mr. Young had naught but one horse, one steer and a wagon. With that start he built one of the large fortunes of the great southwest. He owned a ranch of approximately 5,000 acres."

He and his wife, Mary Elisabeth "Lizzie" (HOPKINS) are buried at Fairlawn Cem. -Elk City, Beckham Co, OK.
James Guy Young
Obituary - The Eskridge Independent, dtd Thurs. 18 Nov 1987
"Mr. Guy Young died at his home on Rock Creek Sunday Nov. 14th, at 12:30 p.m. of typhoid fever, and was buried in the Chalk Mound cemetery Monday, the final services being attended by a large number of the friends of the deceased, Mr. Young had been sick about three weeks. About 2 weeks ago he had partially recovered, being able to be around. He then drove to Alma and was badly chilled by the cold. A relapse followed and death resulted. Deceased leaves a wife and two children, a father, mother and brother. The mother and brother were in Texas at the time of his death, while the others were at his side, the father coming Friday last for a visit. Mr. Young was a popular and enterprising young man. He was a progressive farmer, and well liked by all. He had been the leader of the Chalk band for several years, and they assisted in his burial. The blow falls heavily upon the bereaved ones, with whom all sympathize."
John Henry Young
Book: "History of Kansas", by Andreas, Vol. 1, page 598.
"JOHN H. YOUNG, farmer, Section 34. P.O. Waveland, owns 200 acres, all enclosed; 180 acres under cultivation and twenty acres in timber. He also owns 200 acres of land, all enclosed, in adjoining counties. He has two horses, two mules, five milch cows and 100 hogs. He was born in Johnson County, Ind., December [November] 22, 1815, and moved to Missouri with his parents in 1855, and came to Kansas in 1857, and located with his father on an adjoining farm. He enlisted as a private in Co. H, 15th Kansas Cavalry, in September 1863 and was on detached service escorting mail on the plains a great portion of his term of service. Was also engaged in scouting and keeping Nevada Indians on their reservation, and was mustered out Nov 1866 on general orders. After being mustered out [he] spent six years with his parents, and then went to Pueblo, Col., and from there to western Texas, remaining there until June 1822, when he returned to Kansas & bought his present farm."
Buried: Shawnee Center Cemetery, Old Wakarusa Village, Shawnee Co, KS. His wife, Sarah Jane (HARDIN) is also buried there.
Irl Charles Young
Son of John Henry Young and Sarah Jane Hardin, buried at Shawnee Center Cemetery, Old Wakarusa Village, Shawnee Co, KS, near his parents & grandparents.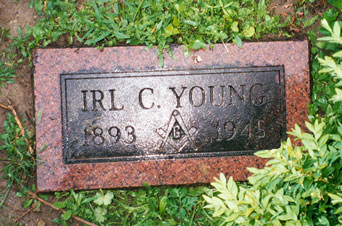 George Monroe Young
Obituary - The Eskridge Independent, dtd Thurs. 3 Jan 1918
"Old Timer Dies. George Young, a former Eskridge resident, died Wednesday December 26, 1917 at his home in Hamburg, Okla., at the age of 67 years. He was a brother of Sherman Young of this city, William and James Young who live in Oklahoma, Mrs. Lizzie Warren of Eskridge, Mrs. M. [Jenny] Jester, Eureka Springs, Mo., Mrs. Ella Miller of Syracuse, and Mrs. Clara Johnson of Bartlesville, Okla. He was well-to-do and had made a good deal of money since leaving Eskridge 17 years ago."
Martha Jane "Jenny" Young
From the County Courts of Wabaunsee Co., Alma, Kansas ltr dtd 9 Apr 1968
"Dear Columbia [Beasterfeld] [Sherman Young's dau.], Marriage records are kept in our office, therefore your card was given to me. The record shows that A. C. Devoe and Jennie Young, both 26 yrs old, were married Jul 5 1880 here by Probate Judge G. G. Hall. The address given in Wilmington Twp. Perhaps they lived in or near Eskridge, but no other fact as to where they lived. I do hope you are getting along well and that Willey is steadily improving.
Your friend, Harold Bennett, Probate Judge"
Obituary - The Eskridge Independent, dtd Thurs 8 Sep 1938
"Death of Mrs. M. Jester. Martha Jane Young was born October 12, 1852, near Franklin, Ind., and departed this life September 1, 1938, aged 85 years, 11 months and 12 days. With her parents, she went to Missouri for a residence of two years and then came to Kansas in the spring of 1857, locating on a farm near Wakarusa station. Later she made her home with an older sister south of Eskridge, on the farm now occupied by D. Anderson.
She was a teacher for many years and had the distinction of being the first teacher in the old stone schoolhouse at Star district. Among the county superintendents under whom she taught were W.E. Ritchey, Matt Thompson and W.J. Ramey. She also taught in Phillips county and in Oklahoma. She was united in marriage to M. Jester at Cheyenne, Okla., June 18, 1900, and came to Eskridge to reside in the home now occupied by George Cook and family. A few years ago, she and her husband moved to Eureka Springs, Ark., where she lived until her death.
She leaves one sister, Clara Bromback of Eureka Springs, and two brothers, James, of Crawford, Okla., and Sherman Young of Eskridge, Kans. Mr. Jester was buried here in the mausoleum and it was her wish to be buried by his side.
Funeral services were held at the Eskridge cemetery Saturday, September 3, at 10 o'clock a.m. conducted by Rev. S.. Finch of the M.E. Church. Miss Thelma Scholes sang two songs, "Rock of Ages," and "In the Garden."
Bob H. Lowe, husband of Jenny
On the death of Mr. Lowe from a letter written by Jenny to her brother, Sherman. After befriending the Murchinson Family -- Bob Lowe sold his 2nd claim, which had been under his 1st wife's name (she passed away), to them, Mr. Murchinson shot and killed Mr. Lowe over fence posts he had gone to bring back to his homestead from the old claim. The Murchinson's were not good blood as the letter will explain. They wanted everything for nothing.
Obituary - The Eskridge Independent, dtd Thurs 1 Dec 1898
"R. H. Lowe was killed in Texas, Nov. 18, during a quarrel with a man over some fence posts. He was the husband of Miss Jennie Young, formerly of Eskridge, they having been married but a short time. The many friends of Mrs. Lowe deeply sympathize with her in her bereavement."
Manlove Jester, husband of Jenny
Ref: "Early History of Wabaunsee County, Kansas with Stories of Pioneer Days with Glimpses of our Western Border", p. 296, by Matt Thomson published in 1901, Alma, Kansas. Also picture on page 100a.
p.296-M. JESTER Was born November 23, 1838, in Camden, Delaware. Came to Kansas in 1867, and to Wabaunsee county two years later. On October 6, 1872, was united in marriage to Miss Kate Woodard, a daughter, Mrs. Birdie Cartwright, being born to this union. Mrs. Kate Jester dying, was a second time marriedÑto Mrs. Jennie Lowe, on June 18, 1890 [1900!!]. Mr. Jester has held the offices of township trustee and treasurer, owns 238 acres of good farming land and by industry and well directed energy has attained that degree of success of which he is in every way deserving."
Obituary - The Eskridge Independent, dtd Thurs 17 Sep 1931
"M. Jester Dies and Has a Crypt Burial. Manlove Jester, for many years a resident of the Eskridge community but for the past fifteen years a citizen of Eureka Springs, Ark., died at that place on the morning of September 10. His body was brought here for burial in Eskridge mausoleum in which he bought a crypt several months ago. The body arrived here last Saturday and was immediately taken to the mausoleum. Mr. Jester had been ill only a short time. A telegram here to Sherman Young, who is a brother of Mrs. Jester, apprised relatives of the illness and Mr. Young went to Eureka Springs to be with his sister and the sick man. He arrived while Mr. Jester was still alive and was recognized.
The farm on which H. C. Murphy now lives, in the Star district, was homesteaded by Mr. Jester. At one time he owned 240 acres there, although he started with but 80 acres. He lived there many years, then moved with his wife to Eskridge where they lived in the house now owned by George Cook. They had two children, both now dead.
Mr. Jester would have been ninety-two years old at Thanksgiving. He was a veteran of the Civil war, being a member of an Ohio infantry company. He enlisted as a volunteer and served throughout the war, being honorably discharged when peace was declared. He was a former member of the G.A.R. post here."
Margaret Clara "Clarry" Young
Obituary - The Eskridge Independent, dtd 29 Jul 1954
"Elder Sister, a Former Resident, Dies in Bartlesville, Oklahoma.
Sherman Young received word this week of the death of his sister, Mrs. Clara Drumback of Bartlesville, Oklahoma. Mrs. Drumback, who was 95 years old last June moved with her husband to Bartlesville the day it was organized as a city. In recent years she has lived with her daughter at Bartlesville.
Her late husband operated a livery stable in Eskridge many years ago and Mrs. Drumback operated a loom, weaving rag rugs before they moved to Oklahoma.
Mrs. Drumback is survived by her daughter and the one brother, Sherman, who is the only remaining member of family of 11 children."
Hariet Bell "Hattie" Young
The arrangement of great great Aunt Hattie's name comes from her mother's handwritten note on the "Birth Record" page in the family Bible. I do not have possession of the Bible, but possess a xeroxed copy of the birth, death, marriage pages.
Peter Sherman Young / Known as: Sherman Peter Young (my great grandfather)
Ping here to go to Sherman's family note page.



WELCOME! We have earnestly researched our family for many years, and are pleased to provide what we have to all. But none can be taken for a profit publication and copyrighted. If you would like to purchase a copy of my Young line, please let me know, or if you can add-to the data above, please email me, Doni
Back to the: Young Family
James W. Young & Mary Ellen Hamilton Family 1 2 3 4